Donostia-San Sebastián launches a tourism brand
Ideas
A brand is a way to solidify a complex reality in a simple way. For us, it is a reality (that of Donostia-San Sebastián as a tourist destination) that responds to different perspectives and points of view. The brand cannot succeed if it is not properly aligned with our way of understanding the tourist phenomenon and the impact it has on the city.
Another type of tourism is possible
Tourism provides an important boost to our economy and represents an opportunity for development and a better life for the entire community. It's an opportunity that we can't let pass by: it creates jobs, grows businesses and helps promote Basque culture and identity. We want to consolidate the city as a first-rate destination. But not at any price. We want to be a leader without sacrificing who we are and what we value:
A place that is socially, environmentally and economically sustainable.

Being ourselves. Preserving our identity and authenticity.

A destination whose appeal is based on the quality of local life.

A city that favours the integration of visitors, helping them become "temporary natives".
We believe that other type of tourism, underpinned by these cornerstones, is possible. And that the brand's values and activities must also express these principles.
Values and personality
Values are the guidelines that determine our behaviour. When these guidelines are shared amongst a group, they become "culture". These values define us as a city and as a destination, and they mark the path we must follow, in terms of both substance and form.
Because a brand is not simply a symbol, a logo. More than anything, it is a set of cohesive attributes that we offer to people who can identify with them.
And what are these attributes? What is the essence of our city?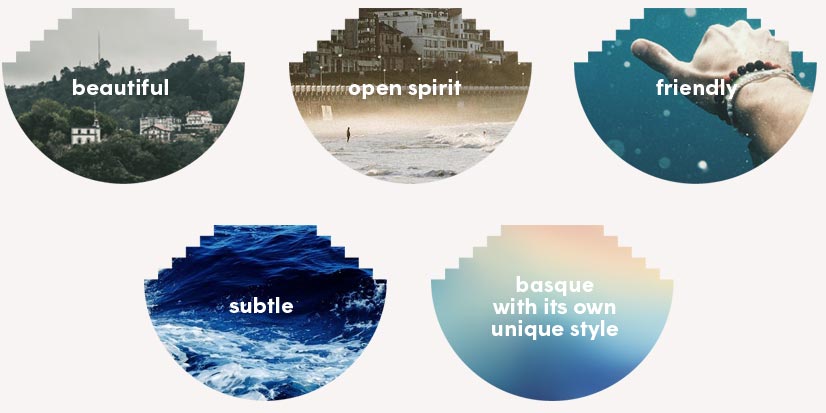 The value proposal
Donostia/San Sebastián is a city that has been defined countless times as incomparable. By everyone, locals and tourists alike. As a cliché and in amazement: "Donostia bat bakarra munduan".
The word "incomparable" makes us a popular destination, because it's something unique and essential. Something that has turned us into an icon.
And not only is Donostia an icon as a whole. It also provides a home to countless others: iconic spaces, buildings, sculptures, and images that visitors take with them when they return home. And all these icons are found in a compact geographical area, reduced and manageable. On a human and liveable scale that forms part of what it is to discover Donostia.
But what makes San Sebastián iconic is more than just its sights. Cuisine, elegance, a way of life, of sharing and celebrating: these are also unique and special in their own rights, and turn the experience of exploring Donostia into an iconic one.
We've captured this value proposal in a simple, relatable motto. One that doesn't need a translation, since it's in English, the international language, and includes concepts from Greek (εἰκόνος) and Latin (civitas):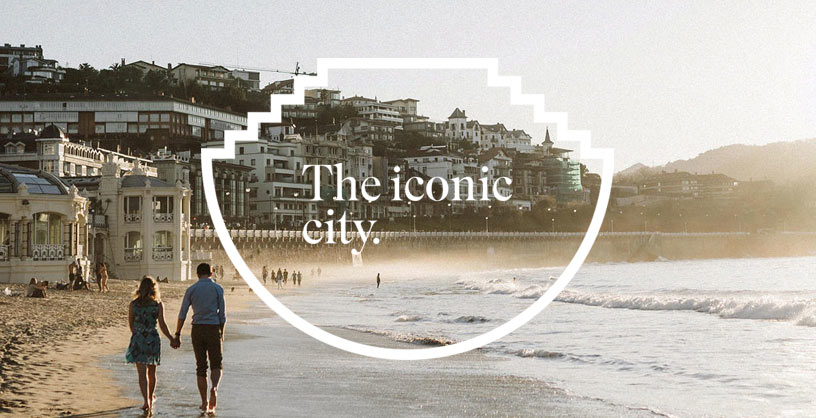 This concept faithfully embodies who and what we are. A true promise, backed by who we are, and a value proposal that offers customers an authentic choice.
Download brand guide and logos